Want to look like Dona Barbara, the cowboy costume and gun in hand can make boys pounding on you. I am sure your friends can get amazed to see you in this costume. That's quite bold and you can add your face to this image through your face in the hole effect on this website. One can do this very easily by uplaoding her picture and then adjusting the face in a hole. next step is to save the image on the PC. Thats quite cool and simple isn't it so why not try at your own?
DONA BARBARA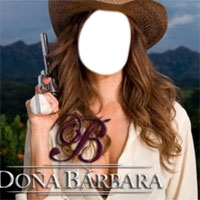 ШАГ 2 из 3.
Загрузите Ваше Фото:
Пожалуйста, используйте файлы фотографий менее 4 MB! Поддерживаются фото в PNG, JPG, GIF формате!