Become Pope by Photomica's Photo Editor
You can now create funny faces online by the photo editor's of photomica website. You can create your personalised pictures and enjoy being various characters like Santa Claus, Soldier or as on this page, you can become the Pope Benedict XVI. This effect above is named "Funny faces photo - Pope Benedict XVI". It is always fun to see yourself into various characters. You can put an element of surprise when you show pics to your friends or use these pictures for various photo editings. Combine these photos from photomica with photoshop to get amazing funny pictures. If you don't know photoediting this can be very good option for you.
POPE BENEDICT XVI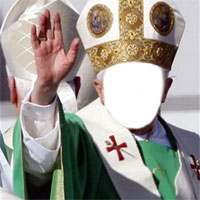 STEP 2 of 3.
Upload your photo
Your image should be in jpg, gif or png format and not to exceed the size of 4 Mb.