Wanna Wish Merry Christmas by Dressing like Santa?
Have you ever wanted to become Santa Claus on the Christmas or you wished to dress like christmas beauty to impress your friends? Well, that looks really cute and your family and friends will surely love to see you dressed into the Santa Claus. You can use Face in hole Christmas Effect on the photomica's photo editing website to get this dream come true. Its easy as you can just upload the photos from the PC then adjust your face in the provided hole in the online photo editor. And you are done. There are endless number of options available.
MERRY CHRISTMAS1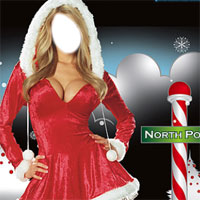 STEP 2 of 3.
Upload your photo
Your image should be in jpg, gif or png format and not to exceed the size of 4 Mb.