Become Lady Gaga in Minutes
If you have been a fan of Lady Gaga, you can now get into her costumes and adopt her style in less than a minute. Just add your or your girlfriend's photo in the photo template and get a custom photo free. You can also download the images to your PC and share them with your friends. Put these photos on facebook or email it to your friends. You will surely like this photo effect once you create a customized photo. Lady GAGA fun effect is funny and you can amaze your family for a moment when they see you wearing those stylish clothes.
LADY GAGA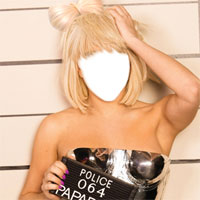 STEP 2 of 3.
Upload your photo
Your image should be in jpg, gif or png format and not to exceed the size of 4 Mb.