Making Your Baby Look Cute on Photomica
Your baby can become now cutest baby on planet and you can get the photos of your baby without stepping out of your home. Just take a picture through your phone or camera and get the image uploaded here on the photo editor on photomica.com. It's very easy now to create photos of your baby and save them to your PC without even buying the actual costumes or visiting a studio. These are Free baby templates on the site that you can try. Share these cute baby pics with your family members and have fun.
BABY CAT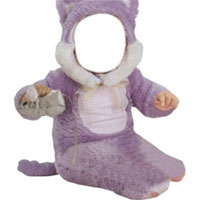 STEP 2 of 3.
Upload your photo
Your image should be in jpg, gif or png format and not to exceed the size of 4 Mb.