Very old advertising features your photo on a tall advertising board on the highway. The free edit your photo online editor enables you to upload your photo and edit it online. It is ideal for people that don't have photo editor software to edit your photo. After you have used the online photo editor, you will be able to use your printer to print it. If you don't want to print it, you can download and save it to your computer.
Very old advertising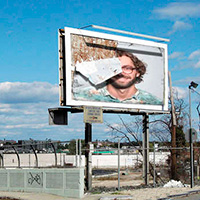 STEP 2 of 3.
Upload your photo
Your image should be in jpg, gif or png format and not to exceed the size of 4 Mb.