The best advertising photo effect features your photo in a large advertising banner on the street. Photomica lets you make funny photo online. Users have to click on the browse button to upload a photo from the computer to make funny photo effects online. After you have edited it, the browser will be redirected to a page to download it.
The best advertising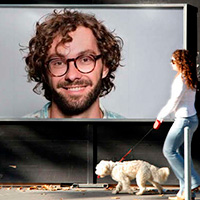 STEP 2 of 3.
Upload your photo
Your image should be in jpg, gif or png format and not to exceed the size of 4 Mb.