This is a great photo effect from the famous tennis player Maria Sharapova. The Sharapova photo cards are not easily available online on usual websites but there is one here on photomica.com. If you're tennis fan and like to play or watch tennis, this photo effect is for you. Maria is not just known for tennis but for her beauty as well and she has a number of male fans from across the world. If you want to get likes on your profile picture on Facebook or 1+ on Google plus, just go ahead and upload your picture on this photo effect and save the image on your computer or smart phone.
Sharapova photo cards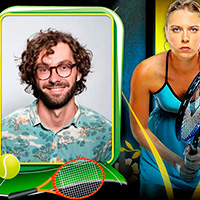 STEP 2 of 3.
Upload your photo
Your image should be in jpg, gif or png format and not to exceed the size of 4 Mb.