Robert Pattinson is a popular English actor, model, musician and producer and he has been awarded with MTV movie award for Best Kiss. He's a 28 year talented actor from United Kingdom. You can see in this photo effect that he's holding Magazine and you can upload your own image in this magazine and share it with your friends on Facebook or Twitter. It is very easy to upload the photos from your computer or smart phone or any web address online. You need no special skills like photo shop or use of Microsoft paint to make these photo effects. You can show this Robert Pattinson Magazine effect to your friends and use them too.
Robert Pattison Magazine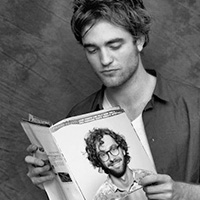 STEP 2 of 3.
Upload your photo
Your image should be in jpg, gif or png format and not to exceed the size of 4 Mb.