You can now collect your funny good morning cards free from photomica.com. We can show you how in this content. Just take a picture from your smart phone or your camera and upload the picture on this page. You can also upload the image from a URL. Just add just your face in the good morning card and then downloaded on the desktop or on your mobile. Then you can share the image on whatsapp, Instagram, Facebook or any other social media website. It is a quite easy activity that can be done and you can create fun moments for yourself and for your friends.
Good morning cards fre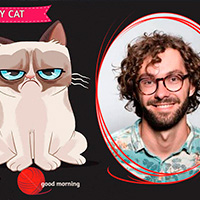 STEP 2 of 3.
Upload your photo
Your image should be in jpg, gif or png format and not to exceed the size of 4 Mb.