Everyone likes to travel and we are sure that you also like travelling and visiting new places as well. Sometimes you want to tell your friends that you want to go out or travel to some new destination but you are unable to tell them in a creative way because special skills are needed for creating photo shopped effects. But we have made it easy by our Free Journey Effects on the website. Just upload your photo and that of your friends, tag your friends in the photo card and share them online on various social networking websites or on your messenger.
Free Journey Effects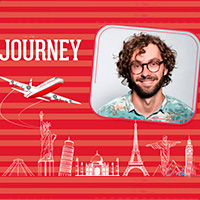 STEP 2 of 3.
Upload your photo
Your image should be in jpg, gif or png format and not to exceed the size of 4 Mb.