Arnold Schwarzenegger is a great personality, great bodybuilder, politician and public figure. He's a very humble person despite of being very successful identity. If you're a fan of Arnold Schwarzenegger, you can go ahead and use this Arnold Schwarzenegger with mobile photo effect on our website which is free for everyone. You can just upload your photograph and you will see that Arnold will be holding your photo in the mobile phone that is shown in the photo effect. You can also share this photo effect with your friends by just clicking on the URL of the page and posting it on Facebook.
Arnold Schwarzenegger with mobile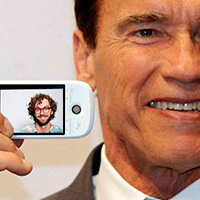 STEP 2 of 3.
Upload your photo
Your image should be in jpg, gif or png format and not to exceed the size of 4 Mb.