Advertising installation photo effect is a free effect which you can add to your photo. Adding effects to photos has never been easier with Photomica. To add it, you need to upload a photo from your computer or a website. After that, you can crop the part of the image you want and submit the changes. After adding photo effects online, you will be able to download the advertising installation photo effect to your computer.
Advertising installation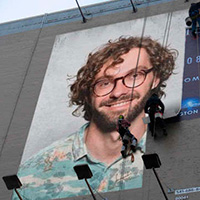 STEP 2 of 3.
Upload your photo
Your image should be in jpg, gif or png format and not to exceed the size of 4 Mb.