Want to be a Girl Gymnast - Here's How you Can Do it Online?
Do you have interests in sports and you want to become a most flexible women doing gymnastics? If yes, here's how you can do it on our website photomica.com for free and that too instantly. There are Free sports templates online in the photo editors. You can upload your pictures and adjust your photos in the above shown gymnasts face. Thats what we call face in the hole effect. It's very easy and you can share these pictures with your friends as well putting in delusion that when you turned so flexible and good in sports.
CONTORSIONISTA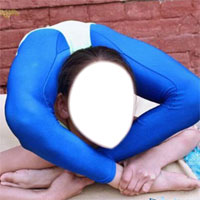 Schritt 2 von 3.
Lade dein Photo hoch
Dein Bild sollte im jpg, gif oder png Format sein und sollte die Größe von 4 Mb nicht überschreiten.