Winter Cards Free - Make Your Own Photo Cards Online
It is a fantastic option for all of us to have a website that can create custom photo cards for almost every occasion and share your warm feelings with everyone you know. Just visit our website Photomica.com to create custom photo cards free of cost. We have photo-editing templates for almost every occasion of the year. Create your funny photo effects or send wishes to your dear ones with free online photo editing and effects. Photomica.com will always be there for you. Moreover, it is very easy to send the photo cards. You can see the winter holidays photo card here. Just add your photo and you have the creative card with you.
Winter Snow Card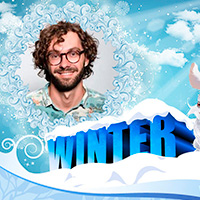 STEP 2 of 3.
Upload your photo
Your image should be in jpg, gif or png format and not to exceed the size of 4 Mb.