Create Your Own Love Photo cards Online free
Some people in your life are very close to your heart. You want to express your feelings to them but you do not know how to do that? If you can see those feelings in her eyes and you want to tell her without speaking anything then consider Photomica.com free photo greeting cards. You can see in these template Photo greeting cards online are great way to impress your loved ones. You can save the pictures on your PC and make a scrapbook for your friends, relatives, loved ones and for your partner.
I will always Love You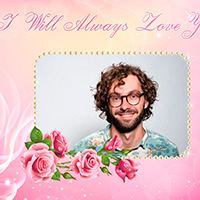 STEP 2 of 3.
Upload your photo
Your image should be in jpg, gif or png format and not to exceed the size of 4 Mb.