Thanksgiving Day Photo Cards Free on Photomica.com
The photo cards are strong way to express your emotions to the world. If you want to express yourself on the Thanksgiving Day, then Photomica.com is a great solution. Just go to the photo template for the Thanksgiving Day and create your custom photo cards with your photos. You can then save these photos to your PC and then share the pictures with your friends on social media websites. Our website allows the Photos into cards and there are hundreds of photo templates available completely free. There are many options and this can be a great past time apart from an effective method to express yourself.
Happy Thanksgiving Card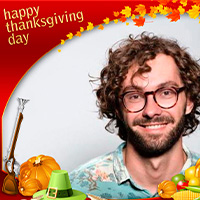 STEP 2 of 3.
Upload your photo
Your image should be in jpg, gif or png format and not to exceed the size of 4 Mb.