Get Halloween Greeting Cards
You can make your own personalized halloween greeting cards online. There are various templates on our website which allow to create your own greeting cards for the appropriate occasion and Halloween Fun Effect is one of them. You can get the cards in seconds by just uploading your friend's or your picture and get the halloween card ready. These can be shared online on social media sites like twitter, facebook etc. Try other cards as well for the appropriate occasions. These are simple to create and can be downloaded on your PC. Moreover, the templates on our site are free.
Halloween Fun Effect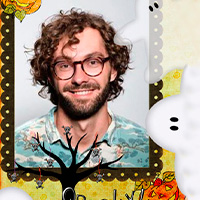 STEP 2 of 3.
Upload your photo
Your image should be in jpg, gif or png format and not to exceed the size of 4 Mb.