Propose Your Crush this Valentine
If you have been planning various ways to impress your love and she lives in some other place far to reach then you can now propose her with love by using our Free Valentines Cards Online. Just take some lovely pictures that be uploaded on the photo template shown on this page. This is very easy and one can do it in seconds. Get the best photos and save them to your PC. Send it to your partner asking her if she wants to be your Valentine. This template is one of the best templates on our website and Photomica.com has hundreds of templates for various photo cards.
Free Valentines Cards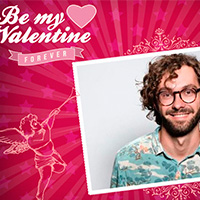 STEP 2 of 3.
Upload your photo
Your image should be in jpg, gif or png format and not to exceed the size of 4 Mb.