Get Online Cards for Various Occasions
Creating Online customized cards was never so easy. You can get the funny cards, customized cards, greeting cards and cards for all other occasions on our website through online photo editors on photomica.com. Here you can the Trick-or-Treat Card was created for persons who wish to ask their friends online about the trick or the treat? You can use these near to halloween. Try all our card effects and save them to your computers and you never no when you can use them and send them to your friends to express your emotions. The online greeting cards are grat for talking to your friends and sending them wishes through email.
Book love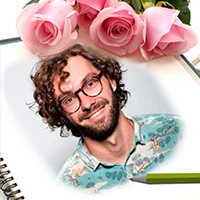 STEP 2 of 3.
Upload your photo
Your image should be in jpg, gif or png format and not to exceed the size of 4 Mb.