Wow, this is just amazing effect on photomica. I tried it myself as I love big muscles and I am doing workouts to get bigger muscles. I just uploaded an image on this photo editor and got my face in the face in hole generator. It just looked awesome and then saved it to my PC. Now the image is on my Tshirt edited through photoshop. My friends think that I know photoshop but I really have no knowledge of the same. Photomica is a very good website for creating such funny pics.
The Incredible Hulk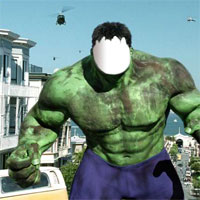 ШАГ 2 из 3.
Загрузите Ваше Фото:
Пожалуйста, используйте файлы фотографий менее 4 MB! Поддерживаются фото в PNG, JPG, GIF формате!