SuperWoman Photo Editor Online
You must have been knowing about the superman but you ever wondered that there can be a superwoman as well. We have made it possible through photomica's photo editor that works online and allows to create funny images and allows to put anyone's face into miscellaneous personalities. The Superwoman face in hole Effect Online is only available on this website and if you want to tell the world that woman are strong and you're one of the strong women in this world then this can be funny but effective way to express yourself, offline or another way to tell your husband that you are just her super partner. Enjoy this effect on our website!
SUPERWOMAN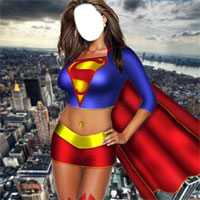 ШАГ 2 из 3.
Загрузите Ваше Фото:
Пожалуйста, используйте файлы фотографий менее 4 MB! Поддерживаются фото в PNG, JPG, GIF формате!