Become Really Cute Soft Toy
Soft toys have always been cute and women always loved them. Little kids and children also love to play with the soft toys. If you have small kid and or someone special who looks very cute to you and you wish to present a funny but still cute picture. Then this is the photo editor meant for you. Just upload your little kid's photograph boy or girl, it going to be very funny and you are surely going to love it. Thats called Face in hole picture editing by the photo editing on photomica. Its simply and fun.
Rabbit face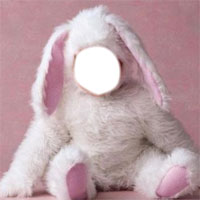 ШАГ 2 из 3.
Загрузите Ваше Фото:
Пожалуйста, используйте файлы фотографий менее 4 MB! Поддерживаются фото в PNG, JPG, GIF формате!