Best face in the hole belong to you. You can edit your photos through photo editor's online on the photomica website. The effect in this editor is inspired from the famous movie legally blonde. You can edit your photo and add your face to the popular character in the movie. If you want to impress your boyfriend or want to look in this pretty dress like a celeb you must use this photo effect. A woman with expensive dress and with doggie in her hands looks like rich lady to me. What you say just try out this effect yourself easily.
Legally Blonde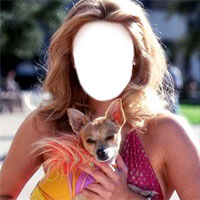 ШАГ 2 из 3.
Загрузите Ваше Фото:
Пожалуйста, используйте файлы фотографий менее 4 MB! Поддерживаются фото в PNG, JPG, GIF формате!