Johny Dep is No More Jack Sparrow!
Yes, it's 100% truth that Johny Dep isn't anymore playing role of Jack Sparrow because you going to do that by our online photo editor presenting you as jack Sparrow costume as in Pirates of Carribean series. This is one of best and most popular free face template on our site and you will be just amused to use it. If you are fan of this movie, you can always adjust your face into the hole in the editor and download your photo as Jack Sparrow pirate. These are very funny templates. Try every photo effect on photomica.com
Jack Sparrow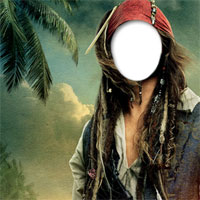 STEP 2 of 3.
Upload your photo
Your image should be in jpg, gif or png format and not to exceed the size of 4 Mb.