Have Fun with Cheerleader Photo Effect
Many girls wish to become cheer leaders for their scholl or college sports teams and wish to cheer for sportsmen. You can also become a teenager cheerleader and can get your funny photos in the costume of a cheerleader. This can be very funny. If your parents don't like you to see you as cheerleader as there can be some issues, you can convince by showing these pics or you can just share them online. There are very few sites that provide good Cheerleader templates online and you are on the best site right now. Upload your photo now and try this effect.
CHEERLEADER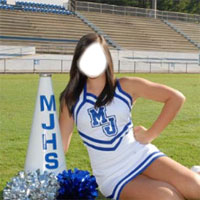 STEP 2 of 3.
Upload your photo
Your image should be in jpg, gif or png format and not to exceed the size of 4 Mb.