Online photo effects for couples in which Arnold Schwarzenegger is standing with a TV and in this TV you can upload your own image and become a celebrity that even Arnold will endorse. He's a great personality, a legendary bodybuilder and a known actor as well and he has been doing many action films. You will really like this Arnold Schwarzenegger with TV photo effect on our website. If you liked this person, just upload your photograph on the web page and download it on your laptop or Facebook account and share it with your friends.
Arnold Schwarzenegger with TV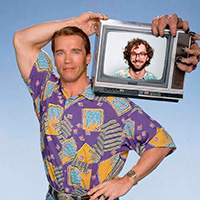 STEP 2 of 3.
Upload your photo
Your image should be in jpg, gif or png format and not to exceed the size of 4 Mb.