Act in Hollywood Now
Do you want to make your friends get puzzled by wathcing your photos with popular Hollywood stars? If yes, then its the chance to become popular and take the place of kristem Stewart as in Twilight Saga by using our The Twilight Saga Fun Template. This can be very funny as you can share these pictures on facebook or through other social media websites. You can also confuse your friends or convince them that you are going to act in the upcoming sequel of the movie. Its very easy to use this template and can be a good past time to enjoy with your friends.
The Twilight Saga: Breaking Dawn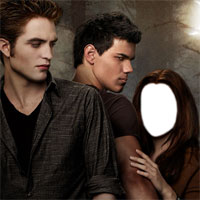 Schritt 2 von 3.
Lade dein Photo hoch
Dein Bild sollte im jpg, gif oder png Format sein und sollte die Größe von 4 Mb nicht überschreiten.